Installing TAGSAK™ is easy!!!
INSTALLING TAGSAK IS EASY AS ONE, TWO… THAT'S IT!
Step 1) Insert toll tag into TAGSAK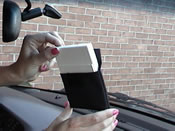 Step 2) Attach to windshield. That's It!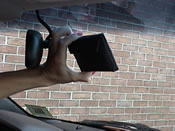 As you drive through tollbooths, the Electronic Toll System frequency travels through your windshield and TAGSAK to read your tag, deducting your toll amount as it always has.
TAGSAK covers the toll pass, concealing the toll tag, and does not affect toll function. EZPASS (and others) are read through TAGSAK! It really works – guaranteed!
If you are unhappy with TAGSAK for any reason, return it for a full refund.
TAGSAK was specifically designed as to not affect toll collection in any way, while regaining the original look of your car.