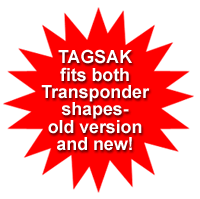 TAGSAK is a soft-sided sack that fits over electronic toll collection tags nationwide such as EZPASS, SunPass and others.
TAGSAK covers the toll tag, concealing the white square without affecting toll function. Your toll tag is read through TAGSAK! EZPASS tag works like it always does – guaranteed!
Toll tag is read through TAGSAK and does not affect function in any way – GUARANTEED TO WORK OR YOUR MONEY BACK!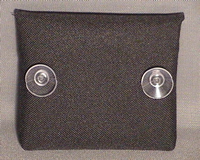 TAGSAK is a carefully designed bag made to fit your toll tag, attaching easily to your windshield via suction cups. TAGSAK is made of durable nylon, complimenting your car's interior. TAGSAK offers:
Theft deterrent (makes tag virtually invisible)
Easy removal to clean windshield
Elimination of Velcro adhesives
Transferable from one car to another
Advertising opportunities
TAGSAK works with all Toll Systems including:
EZPASS
Fast Lane
MTAG
EZTAG
Express Toll
Georgia Cruise Card
TollTag
Palmetto Pass
TransPass
EPASS
SunPass
FasTrak
KTAG
I PASS
Pikepass
LeeWay
Smart Tag
And all others
TAGSAK is not sponsored, affiliated, endorsed or associate with any electronic tolls system authorities.
Makes a GREAT Holiday Gift!
Need a stocking stuffer or Secret Santa idea?
TAGSAK is the perfect solution for those hard-to-find gifts – order a few, and save a trip to the mall!