Custom Logos
Use TAGSAK to advertise your business!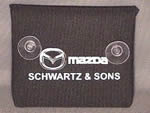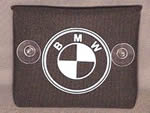 "TAGSAK is the ultimate Advertising item, it is seen by thousands of people daily, maximizing my Advertising Dollars"
Jerome K
San Francisco CA
GENERAL INFORMATION
QUANTITY:

100

250

500

1000

Style #1002
$5.95
$5.65
$5.25
$4.95
4C
Imprint: Includes one color, one location imprint. Additional color add $ .75(G), additional placement add $ .95(G).
Set Up Charge: : Camera Ready Artwork – $55(G) per color for each logo.
Imprint Area: TAGSAK will size artwork to maximize imprint area.
Item Color: Black – other colors available, contact customer service.
Standard Service: 15-20 business days after art approval.
Over/Under Run Policy: +/- 5% of order quantity rounded up to nearest unit.
Terms: Net 30 to rated accounts. Interest charge is 1.5% per month on all past due invoices. Payment in U.S. Dollars. Prices subject to change without notice. Orders will not be processed for any account 60 days past due. Shipment of orders is subject to credit approval. Any account 90 days past due will be placed for collection.
Freight: F.O.B. NJ
Cancellation & Changes Policy: Any order that is cancelled or changed will be charged $31.25(G)/hour; minimum $25(G).